GRSE FACILITATES TRAINING, KOLKATA
As part of the tripartite MoU signed on January 9, 2014, between GRSE Ltd, BESU (now IIEST) and Kolkata Police for imparting employment oriented vocational skill training to local youth, 275 youth have undergone vocational training in various trades. Certificates were given to the trainees at IIEST, Shibpur by CMD, GRSE Ltd, Rear Admiral A K Verma, IN (Retd); director (IIEST), prof Ajay Kumar Ray; DCP ( port division), V Solomon Nesakumar, IPS and director (personal), GRSE Ltd, R C Nautiyal.
The Times of India, Kolkata, Friday, 22 Nov, 2013
A cheque of Rs. 26.30 crores towards dividend for the FY 2012-13 was handed over to Raksha Mantri, A.K.Antony, by CMD, GRSE, Rear Admiral (Retd.) A.K.Verma, VSM, in the presence of Secretary (Defence Production), G.C.Pati; Addl Secretary (Defence Production), A.K.Gupta; and Joint Secretary (Naval System), A.K.K.Meena.
THE TIMES OF INDIA, KOLKATA
TUESDAY, MARCH 24, 2015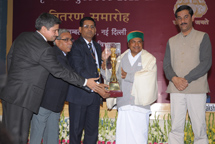 RAKSHA MANTRI'S AWARD FOR EXCELLENCE FOR YEAR 2011-12
Raksha Mantri's award for excellence for year 2011-12 for 'best performing shipyard' awarded to Garden Reach Shipbuilders & Engineers Ltd., Kolkata for achieving overall organisational excellence and customer satisfaction thorough quality-improvement, cost reduction, research & development and robust all round performance in physical as well as financial terms.
The Hon'ble Raksha Mantri Shri A.K. Antony presented the award to Radm A.K. Verma, VSM, (Retd.), Chairman & Managing Director, Shri K.K. Rai, Director (Finance), and Shri R.C. Nautiyal, Director (Personnel), GRSE, Kolkata during a ceremony held at DRDO Bhawan, New Delhi on 25 nov 13.
FIRST EVER DEFENCE EXPORT ORDER IN INDIA
LAUNCHING OF OFFSHORE PATROL VESSEL FOR REPUBLIC OF GOVT OF MAURITIUS
BY MRS K O FONG WENG-POORUN , SENIOR CHIEF EXECUTIVE, PMO, GOVT OF MAURITIUS
GRSE MAIN YARD, KOLKATA, 02 AUG, 2013
Garden Reach Shipbuilders & Engineers Ltd launched the Offshore Patrol Vessel (MOPV) built for Government of Mauritius on 02 August 2013 at 0815 Hrs from the Main yard . The Ship was launched by Mrs K O Fong Weng-Poorun,Senior Chief Executive, PMO, Govt of Mauritius in august presence of His Excellency Dr Arye Kumar Juggessar, GOSK, High Commissioner, Government of Mauritius, Vice Admiral Pradeep K Chatterjee, AVSM, NM, Deputy Chief of the Naval Staff, Rear Admiral (Retd) A.K. Verma, VSM, Chairman & Managing Director, GRSE and other dignitaries from Ministry of Defence, Ministry of External Affairs and State administration. During this ceremony, the ship has been christened "CGS Barracuda".
GRSE had signed the contract for this prestigious export order on 4th March, 2011 which is not only a significant milestone in the Indo-Mauritian co-operation but also ushered in a new chapter in Indian Shipbuilding with the first ever export order for a warship placed on an Indian Shipyard. The Keel of the ship was laid in 23 April 2012.
The Mauritius OPV measuring 74.10 mtr in length, 11.40 mtr in breadth, shall be capable of moving at a maximum speed of 20 knots with an approximate displacement of 1300 tonnes. The ship has been fitted with state-of-the-art Main Engines, Controls and Integrated Bridge System catering to all needs of Communication and Navigation. The ship will be provided with improved habitability with fully air-conditioned modular accommodation.
With the objective of ensuring safety and security of maritime zone/EEZ of Mauritius, MOPV has been designed for playing multipurpose roles viz, Anti Piracy, Search & Rescue Operation, Anti Smuggling & Anti-Drug Surveillance, Anti Poaching Operation, Logistic Support Operation (including Transportation of Dry Cargo, Fuel Oil, Fresh Food), Pollution Response and External Fire Fighting, Transportation of Small Detachment of Troops/Personnel, Helicopter Operations (without hangar).
With the augmentation of state-of-the-art infrastructure/facilities and with its team of dedicated and motivated workmen and officers, GRSE is well poised to take newer challenges to achieve greater heights in future. GRSE, A "Mini Ratna" company, has constructed and delivered as many as 84 warships for Indian Navy and Indian Coast Guard. This first ever export project of warship is yet another feather in the cap of GRSE, which has been declared the "Best Performing Shipyard of the Country" by Hon'ble Raksha Mantri in 2012.
PRABHAT KHABAR, KOLKATA
TUESDAY, MARCH 24, 2015
INAUGURATION OF "INTEGRATED SHIPBUILDING FACILITY"
BY
SHRI JITENDRA SINGH
HON'BLE RAKSHA RAJYA MANTRI
06 JUN, 2013
An "Integrated Shipbuilding Facility" has been created under Modernisation Programme of Garden Reach Shipbuilders & Engineers Ltd., to implement the latest Modular Shipbuilding Technology. The modern Facility is being inaugurated by Shri Jitendra Singh, Hon'ble Raksha Rajya Mantri at 1000 hours 6th June 2013, at GRSE Main Works, in the presence of high level dignitaries from the Ministry of Defence, State Government and Defence Services.
The foundation stone for the new Facility was laid on 19th Feb 2009 and the modernisation project has been completed in May 2013. The Objective of modernization is to create new shipbuilding infrastructure that would enable Integrated Construction of large ships, using advanced Modular Shipbuilding technology.
The new "Integrated Shipbuilding Facility" comprise of following co-located facilities to enable Modular Shipbuilding:
| | |
| --- | --- |
| Dry Dock | 180M x 29M of 10000 Tons capacity, for building large ships |
| Inclined Berth | 180M x 23M of 4500 Tons capacity, for building large ships |
| Module Hall | 99 x 30 M with telescopic sliding roof arrangement, to facilitate integration of Pre-outfitted Mega-Hull blocks weighing up to 200 Tons |
| Goliath Crane | 250 Tons capacity, covering Dry Dock, Inclined Berth and Module Hall, for handling Mega-Hull blocks weighing up to 200 Tons |
In addition to the above, associated facilities like Paint Cell for blasting and painting of hull blocks at controlled conditions of temperature and humidity, Electrical Sub-Station of 6 KV capacity to meet power supply requirements of the new facilities, River Jetty for berthing ship prior to docking / after undocking, Amenity Block for Operatives etc. have also been constructed as part of Modernisation project.
With commissioning of the new "Integrated Shipbuilding Facility", GRSE is taking a giant stride towards adopting the latest Modular Shipbuilding technology for construction of warships. The new facility would enable GRSE to implement modern Build Strategy of constructing ships with 200 Ton Mega Hull-blocks instead of conventional method of using Hull-blocks of 40 Ton weight. Implementation of new Build Strategy involving Modular Shipbuilding would lead to significant reduction in 'Build Period' and improve quality of Shipbuilding.
THE TIMES of  INDIA, KOLKATA
MONDAY, APRIL 23, 2013